A SHORT VISIT TO SAN FRANCISCO
ALESSANDRA DORIGO
November 2007



We met Alessandra at San Francisco International Airport where she'd just arrived...

We then made tracks for Palo Alto and the new Fleming's Steak House in the Stanford Shopping Center...


Sweet Chili Calamari.



A lovely bottle of Dunn Napa Cabernet from the 1994 vintage and a rib-eye steak.
Brian, Alessandra and I then motored over to University Avenue and a stop at a Croatian coffee place called Michael's.

The next morning we gathered at Nini's over on Bayswater for Sunday morning breakfast.


We got a table outside on the patio, a most amusing venue for a European visitor.

Rena surprised everyone by speaking Italian (her native language in a previous lifetime!) with Alessandra.


Ellen had a stack of blueberry pancakes.



Meanwhile, inside, Nini's was jumping...packed, as usual.



Ellen, Brian and Alessandra.

I then dragged Alessandra over to Burlingame's "Fresh Market."


Alessandra was horrified to see Christmas merchandise in the stores so early.
We then ventured to Millbrae for an hour of decadence...


With our feet fully refreshed, we headed for Pacifica and a stroll on the pier...

We then motored in to San Francisco and had a little stroll around the Haight district...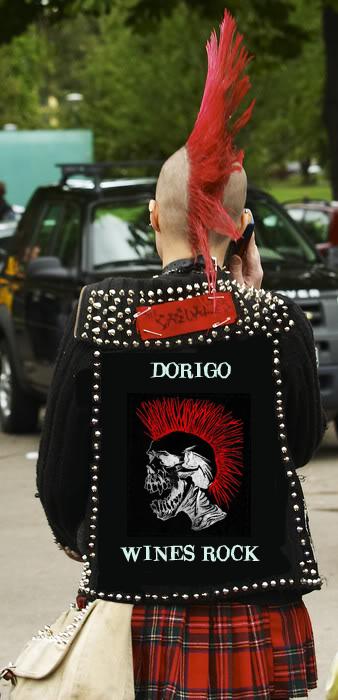 We found a connoisseur of Alessandra's family's wines over by Stanyan Street...
After our tour of The City, we ventured to El Patio Espaol for some vino and vittles.

Alessandra was able to meet the famous wine marketing guru, Sybil Ajay of the Springboard Wine Company.


Crab cakes.



Riscal's white wine from Rueda and some garlic-seasoned mushrooms.

I then poured a bottle of red wine...concealing its identity with a brown bag...
Alessandra was a bit surprised (as you can see) when we unveiled the wine.


It was a wonderful bottle of 1987 Dorigo Schioppettino.
Still alive and well, too!
Meanwhile, Alanna was enjoying the vittles.


Paella Valenciana.



Dane was jelling...

And then Alessandra showed the kids how to fold paper into interesting shapes...




And so we concluded a wonderful 24 hours with Alessandra...
But the next day, her appearance in the Bay Area was evident...


Morning commuters along the Bayshore Freeway saw Alessandra was here.



We even saw a Dorigo license plate!

Even the BART underground train folks were confused when they saw Alessandra...suddenly the sign had an unusual "fermata" listed.


The old Grand Lake Theater even posted a "welcome" notice, knowing Alessandra was in town!

*************************************************
Soon Alessandra departs for Los Angeles. We understand the folks in Hollywood changed the famous sign on the hill...




BACK TO THE FOOD, WINE & FRIENDS PAGE