STORE HOURS
COVID-19 HOURS:
Mon-Sat 9am-6pm
We apologize for the inconvenience.
The Tasting Room is closed

Closed Sundays
More French Dessert Wines
MUSCAT DE BEAUMES DE VENISE

The rich Muscat wines of this Rhone Valley appellation used to be called "poor man's Sauternes." However, in the days when Sauternes cost $10/bottle, these wines fetched a bit more than half of that. Today, while a major Sauternes estate's wine costs $60-$100, good Muscat from Beaumes-de-Venise costs less than $40.

The French view this wine as a fine aperitif and will tell you to pair it with cheeses such as Livarot or perhaps Roquefort. We tend to serve this with fresh summer fruits, finding it pairs handsomely with raspberry desserts or a rich lemon or apricot tart.





DELAS "MUSCAT DE BEAUMES DE VENISE" $12.99 (375ml)


Here's a nice, fresh Muscat from the Southern Rhone that's bottled by the Delas winery, a producer now owned by the Champagne house of Louis Roederer.

The grapes are from the Southern Rhône, of course. Beaumes de Venise is a neighbor of Vacqueyras and it's about 17 kilometers northeast of Châteauneuf-du-Pape.

The wine is vinified in stainless steel at low temps. When the moment is right, Delas adds high-proof (essentially a brandy that's not been wood-aged) to the fermenting wine. This immediately arrests the fermentation, leaving the wine with nice sweetness .



Currently in stock: 2015 DELAS MUSCAT DE BEAUMES DE VENISE $12.99 (375ml)
More Muscat from the south....

DOMAINE FONTANEL
1995 Muscat de Rivesaltes $17.99

This property has been around since 1864, so it's no wonder they've come up with a good recipe for this sweet Muscat wine. They have something like three hectares of Muscat vineyards, so production here is not huge! It's aged for about three years in wood and has some sherry-like, nutty "rancio" notes along with the fragrant grapey quality of the Muscat. Sweet, rich and long on the palate, you can pair this with mocha, caramel or chocolate desserts.


DOMAINE PIQUEMAL
2007 Muscat de Rivesaltes $17.99
1988 Rivesaltes Ambre "L'Age de Raison" $22.99

We host a small seminar on wine marketing every year for the visitors from a wine school in Beaune, France.

One year I was to be in Burgundy for a couple of days and the students who had visited asked me to contact them when I arrived. I did and we met for lunch the following day. They invited me to their class a while later that afternoon and it was interesting to see several of them do a presentation of dessert wines.
One of those making this presentation was Marie-Pierre Piquemal, whose family owns extensive acreage in the Cotes du Roussillon.


There were a couple of Piquemal wines presented in this tasting and both were excellent!

I mentioned these wines to our friend (and wine baron) Michael Sullivan who took the time to taste and evaluate some samples he'd been sent. The wines impressed him, as well, and today we're delighted to have a wonderful Muscat de Rivesaltes in the shop. This is a good example of well-made Muscat, fresh, juicy and sweet, without being heavy or syrupy.




The 2007 Muscat de Rivesaltes is perfect...fresh, fruity, floral, grapey...sweet without being sticky...remarkably good and well-priced.

Also exceptional is their "L'Age de Raison," a Rivesaltes Ambre appellation wine. It's made of Grenache Gris and spent about 17 years in tank, slowly maturing into this golden nectar...it's more "nutty" than fruity, along the lines of an old Tawny Port. And, heck, it is old! 1988 vintage!
Deeeelicious, too. This is one of the best kept secrets in the world of wine...


LOIRE VALLEY OFFERINGS
The Chenin Blanc grape is often overlooked as a "noble" variety, largely because it's difficult to make (for one) and, secondly, because it's rarely as flashy as other grape varieties. Every once in a while you might taste a Chenin Blanc (or Pineau de la Loire as it's known in this part of France) which is a profound and complex wine. Unfortunately, many times this grape comes up short...in a certain way, its lack of popularity mirrors that of Pinot Noir. The average bear isn't sure what to make of it and it's not as "obvious" a wine as oak-laden Chardonnays or big, honeyed Sauternes.

Chenin Blanc grown in the Loire Valley is affected with botrytis on an irregular basis, as there tends to be less fog than in Bordeaux's Sauternes environs. Typically the dessert wines of Chenin Blanc are produced by the late picking of over-ripe, dehydrated fruit.

When you taste a great Chenin Blanc, you will long remember the experience. Trust me.

Chateau des Fesles 1996 "Bonnezeaux" $43.99 - 500ml

This is one of those wines which can be classified in the "something special" category. The Chateau des Fesles has been owned for years by the Boivin (nice name for a winemaker, eh?) family. Jean Boivin had picked up some tricks of the trade while working at Chateau d'Yquem. His family sold the property in the early 1990s to the famous Paris pastry "king," Gaston Lentre. Today the property is run by Bernard Germain. Located reasonably close to the river, the hillside vineyards are affected with botrytis on a more frequent basis than neighboring areas. The 1996 vintage is really rich and quite concentrated. The wine displays flowery notes and rich fruit elements such as peach and apricot. The flavor lingers quite a while. It may be served as a dessert accompaniment or served with foie gras as a starter. I suspect this wine will live, well-stored, for several decades. It is as noble a wine as top Sauternes.




CHATEAU SOUCHERIE 1997 Coteaux du Layon "Chaume" $26.99

The Tijou family has vineyards in several locations, Quarts de Chaume as well as Coteaux du Layon. We have a bottling from the hamlet of Chaume, an appellation which, in its entirety, covers some 72 hectares. Soucherie's wine is quite nice, lighter than a really rich Sauternes and well-priced for this quality. I can see this developing and blossoming over the next 5-10 (or so) years.




CHATEAU de SURONDE 2002 Quarts de Chaume $64.99 - 750ml

Once owned by a guy whose college training was as a language interpreter, this family used to own about a half the appellation of Quarts-de-Chaume at one time.

We visited the property in March of 2002 and found an amazing cellar and vineyard. Organic farming. In fact, winemaker/wine grower Francis Poirel does biologique farming. Tiny yields, as he makes just 5,000 to 10,000 bottles annually from his 7.5 hectares. Amazing wines

When we visited him we tasted a terrific dry white wine which he explained could "only" be designated as a Vin de Table. That's because the Appellation Contrôllée laws required the wine be fermented with a commercial yeast, not the wild yeast that's part of the grape skins! I can't quite recall precisely the rest of the silly, appallingly lame requirements, but the fruit was harvested too ripe and did not require Francis add sugar to the juice. This was another strike against the wine from the legal standpoint, but a positive factor from a wine quality perspective.

His 2002 Quarts de Chaume is an outstanding wine...rich, without being cloying sweet. There's a nice concentration of honey, melon and white flowers to the aromas and flavors. We had a bottle of an earlier vintage with an apple dessert Bob Gorman put together and it was superb. Foie gras would also be another fine pairing.





The Baumard name is highly-respected around the planet as one of the top domaines in the Loire Valley. Most of the family's holdings are in the appellations of Savennières and Quarts-de-Chaume, though they also have other vineyard sites.
Chenin Blanc is the predominant white grape, though they do dabble with something called Chardonnay.
Florent Baumard runs the show these days, taking over for his famous father in the 1990s. Their sweet wines are amongst the most highly-prized in the Loire Valley. Moelleux is the term the French use for describing these somewhat sweet wines.

We tasted a couple of very good wines from recent vintages. A "Carte d'Or" labeled wine is a rather entry-level version of Coteaux du Layon, the wine displaying some honeyed and fruity aromas. It is mildly sweet, so it may be served with both desserts or a Foie Gras starter. Or pair it with some Gorgonzola cheese. It is rather modestly-priced, too. 1999 vintage.

More exceptional and less modestly-priced is the single vineyard "Clos de Sainte-Catherine" bottling of Coteaux du Layon from 1998. It has more intensely honeyed notes and you'll find a richer, more oily texture to this wine.

Both can be consumed (with great pleasure) now. Baumard says the wines will cellar handsomely for another 5-15+ years. Time will tell.

The Quarts du Chaume is a "more important" or noble wine. It comes in half-bottles, screw-cap finished, too! We expect these to age for many years.


Currently in stock:
1998 Coteaux du Layon Clos de Sainte Catherine $32.99
2008 Quarts du Chaume $44.99 (375ml)


BANYULS, etc.

Just north of the Spanish border along the Mediterranean sea is the region which produces the rather obscure dessert wine called Banyuls.

Only four communes are entitled to the appellation. Something like 1400 hectares comprise this appellation, but due to the poor soil, production levels are rather meager. The hills are terraced (they must be maintained by hand, so the work is difficult), allowing the vines to receive the maximum amount of sun.

Drive along the twisting, winding roads here and you'll see lots of very old vines. Grenache is the main grape (50% minimum for normal Banyuls, 75% for Grand Cru Banyuls), though Cinsault, Carignan, Syrah and Mourvèdre are also cultivated in this region. It is made in a curious fashion, the fermentation being stopped by the addition of brandy. The grapes are allowed to macerate for a week or so before the wine is transferred to some sort of aging vessel.

Wooden barrels of very large size are often employed. Smaller casks of 600 liters are used, too. Some producers use smaller containers which are known to the locals as bonbonnes.

Les bonbonnes...


A range of styles is made. Some wines are left for many years to obtain the oxidized, nutty notes of an old tawny Port. Other wines are blends of different lots to create a particular character. Some wines are bottled early to capture the berry-like Grenache fruit and avoid the oxidative elements of many Banyuls wines. Wines matured in wood for 30 months may earn the "Grand Cru" designation. These must also have a minimum of 75% Grenache and be left to macerate for at least five days before they fortify the wine with the alcohol addition. The word "rimage" signifies "variety," though this is usually seen on wines which have been bottled at a youthful stage.

Banyuls is typically made in "red" format, though a Banyuls Blanc is sometimes produced, typically of Muscat, Grenache Blanc and Malvoisie.

Young Banyuls has aromas and flavors reminiscent of plums, cherries and berries, along with a hint of spice. These can pair nicely with blue cheeses such as Roquefort. Older Banyuls wines tend to be more tawny in color and have the character which is described by the term "rancio." You'll sense this character when you find notes reminiscent of toffee, caramel, nuts and molasses.

A neighboring region that's even more obscure is that of MAURY.

Many French people will tell you Banyuls (or Maury) are the only wines to drink with chocolate. That's because they are French and probably haven't heard of Port wines. Okay...that's a cheap short and a smart remark.
But, Banyuls IS a marvelous wine partnered with chocolate!




CASA BLANCA

This is a very old estate, having been founded in 1870. It was owned by the Soufflet family from 1883 and sold grapes and bulk wine.

Alain Soufflet started bottling wine in 1989, so it's only recently that the estate has become known for its wines.

Soufflet sold his shares of the winery to Herve Levano and, with partner Laurent Escapa, the duo is making some classic wines and they arrive at sensible prices.

The vines are on terraced hills and this is very labor-intensive.

Herve Levano in the Casa Blanca cellar.


Currently in stock: DOMAINE DE LA CASA BLANCA BANYULS Sold Out



CORNET et CIE BANYULS

This is a magnificent accompaniment to dark chocolate desserts!

It comes from the Abbe Rous winery in Banyuls-sur-Mer and the place is named after a priest who made and sold Banyuls wines in the late 1800s...that's how the old fellow generated funds to build his church!

The winery today is a grower's cooperative and there are some 750 members with 1150 hectares of vineyards.

The Cornet et Cie label is used for some nice, fresh, young, vigorous Banyuls wines. We have the 2015, a wine displaying dark cherry and berry aromas and flavors. It's fairly sweet and moderately powerful on the palate (less alcohol, perhaps, than most Ports, though).




Currently in stock: 2015 CORNET et Cie BANYULS $18.99 (375ml)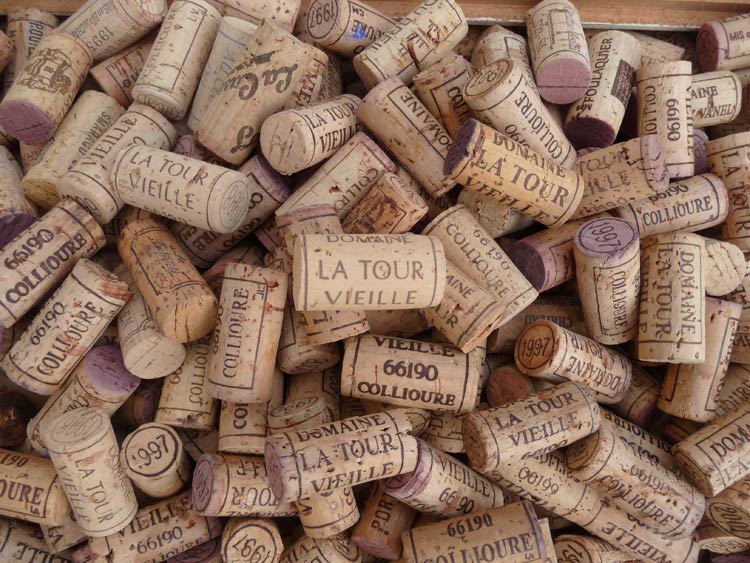 The old tower...



DOMAINE DE LA TOUR VIEILLE

This little enterprise was born in 1982 and it's the work of Christine Campadieu and her husband, Vincent Cantie. She's from Banyuls and he's from Collioure, a nearby town known for its table wine.





They make a really good, youthful, berryish Banyuls.
It comes in half-bottle format and it's a delight with chocolate, as it should be.
You'll find notes of ripe plums, black raspberries and an underlying spice note.


Currently in stock: 2016 DOMAINE DE LA TOUR VIEILLE Banyuls $21.99 (375ml)
MAS AMIEL (MAURY)

Maury is a rather obscure appellation and you won't find very many wine emporiums in the U.S. to even have a clue as to what it is and where it's from.

Well, Maury is a small appellation, some 20 miles from Perpignan and Grenache is the main grape here (along with Muscat for their white wines). A handful of wineries are to be found in the region, "Mas Amiel" being just about the most famous.

The wine is a cousin to the wines of Banyuls, though I'll bet those in Maury will point out their wine is vastly different. I suppose I may be blind to those differences.

We have a lovely example of their basic bottling and this is a lovely wine to pair with chocolate desserts.

Currently in Stock: MAS AMIEL "MAURY" $22.99 (750ml)

********************************************************************

DOMAINE J.C. RASPAIL -- DOMAINE DE LA MÚRE

The Raspail family purchased the Domaine de la Mûre, a five hectare property. Today the family has 15 hectares and makes sparkling wines as well as some table wines.

We're especially interested in the somewhat famous bubbly from this estate, a wine known as Clairette de Die.


Son and Dad, Frederic and J.C.




Frederic Raspail shows off the wine "in progress."




Though the wine takes the name of the Clairette grape, in fact, these must be a minimum of 75% Muscat!


The bottles are "riddled" much like Champagne.



The sediment then gravitates to the crown cap...the necks of the bottles are frozen and then the sediment is disgorged, allowing the wine to be presented "clean."

The resulting wine is very bubbly and nicely fruity and floral. It's reminiscent of a handful of well-made Asti Spumante, far more interesting than most of those. The wine is moderately sweet, but elevated acidity contributes a measure of balance to the wine and it's delicious and crisp on the finish.

Currently in stock: JC RASPAIL CLAIRETTE DE DIE $17.99 (750ml)




****************************************************************
BERNARD RONDEAU

When our friend and wine importer Charles Neal mentioned bringing over a curious wine from the French Alps that was bubbly like an Italian spumante and sweet and pink we figured the poor fellow was "one bottle shy of a full case."


This is a most frivolous bottle of wine...it's made in a region well east of Lyon in the Alps but in a locale that's neither the Jura nor the Savoie. We trekked there this past winter and found ourselves pretty much in France's version of the "middle of nowhere." Cell phones don't work there and the few souls who inhabit this landscape must be hermits, for when we asked various folks where the winery of Bernard Rondeau was located, virtually nobody had heard of the fellow!


Rondeau has tanks similar to those we see in Italy's Piemonte at wineries producing Moscato d'Asti. He employs a similar sort of vinification in producing this simple VDQS (Vin Delimitée Qualité Supérieur) called Bugey Cerdon or Cerdon de Bugey. The resulting wine is pink in color and it's fruity and sweet. When we visited Bernard and his lovely wife Marjorie, they brought out a plate of fried bread dusted with powdered sugar. We've since enjoyed this wine at home with red fruit desserts.

The wine is made about 40 minutes' drive from Bourg-en-Bresse, a town famed for its chickens. We drove to a fancy restaurant near there for dinner with the Rondeaus and were pleased to see Poulet de Bresse on the menu. Unfortunately, it has to be ordered two days before. Those chickens must be tough to catch!
Currently in stock: BERNARD RONDEAU "BUGEY CERDON" $18.99



Bernard & Marjorie Rondeau with their 5 year old future winemaker son Cyprien and Bernard's sister Clara whom we found doing the vineyard work of pruning the vines...

Emile, Cyprien and Victorine...the next generation of winemakers!
2011
Most of the vineyards are planted on steep slopes...remarkable terrain for growing Gamay to make a fizzy and sweet wine.
*****************************************************